Let's be honest, living in an apartment with strangers isn't always something that comes naturally to us. To most, the concept of coliving is novel. You might be wondering if there are any particular rules or etiquette guidelines that should be followed in this type of flat share arrangement. As relocation and accommodation search experts, the Relogo team have compiled this guide on how to be a good coliving neighbour.
New to Coliving?
Just in case you're new to the concept of coliving, it is essentially a flat-share arrangement that is professionally managed where individuals typically have a private room. Coliving spaces come fully furnished, move-in ready and usually include wifi, utilities and basic amenities. Many providers also organise community events, which is a great way to meet like-minded people! 
Thinking that coliving may be a good option for you? Contact us now.
Rules to Live By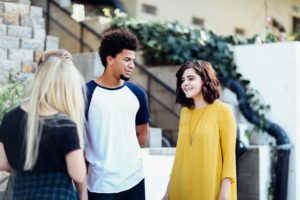 Coliving can be the experience of a lifetime. It provides the perfect opportunity to meet new people, grow as a person, and learn more about yourself. There are a few things you should keep in mind to give yourself the best chance at having a great time, and building a comfortable home:  
Be friendly

: Being friendly and being best friends with your flatmates are not the same thing. Being friendly is simple. Introduce yourself to everyone when you first arrive, have a chat when you see them in common spaces, and give people a smile in passing. 

Be respectful

: Being respectful is a core element of coliving. This tip relates to numerous aspects of the coliving experience. From being mindful of noise levels, to playing by the house rules, to being tidy, it all comes down to respect. When we say respect, we mean respect for your flatmates, and respect for the property. 

Communicate any issues that arise

: Nothing is more uncomfortable than overdue confrontation or passive aggression. If something comes up that doesn't sit well with you, make sure you communicate gently and be ready for an awkward but necessary conversation. Tension looming really dulls the home environment, and no doubt everyone in the apartment will feel it. So, if you just communicate the problem in a rational and understanding way, it is likely to get resolved. 

Don't sweat the small stuff

: Going into a new experience like coliving is likely to cause a bit of stress and nervousness. But don't worry! Your housemates would have felt the same way when they embarked on their journey. They, more than anyone, understand how you feel, so have faith in that common experience, and don't let your fear of the small things overrun your experience. If you feel anxious in new social situations,

read more

about how to overcome your nerves.
Coliving Don'ts
In order to have the best coliving experience possible, and to maintain a good relationship with your flatmates, there are a few things you just shouldn't do. Here are our recommendations: 
Don't go into your flatmate's room

: Plain and simple. DO NOT go into your flatmate's room without their invitation. In a coliving space, your room is your own private space, and that should be respected and cherished. It takes a significant amount of trust to share a home with strangers. This trust should always be kept front of mind, and you should do everything in your power to ensure you don't break this trust. Once trust is lost, the environment of your coliving space will deteriorate. 

Don't be noisy

: If you're trying to get some sleep at 11PM in anticipation of a big day at work in the morning, the last thing you want to do is be kept awake by the noise of your housemates. Whether you're listening to music in your room, or have friends over in the common spaces, it's important to be mindful of how much noise you're making.

Don't be messy

: Although in Singapore it is common for coliving spaces to have a weekly cleaner, it is important to keep the apartment clean in between cleaning visits. Nobody wants to live in a messy home, so pick up your socks, clean your dishes, and get your hairball out of the shower.

Don't take what's not shared

: Don't just assume that your flatmate won't care if you use some of their milk in the morning – ask them! Sharing a coliving space does not necessarily mean that everything in the apartment is open for your use. Be mindful of labels on food in the pantry or fridge, and make yourself aware of what's for communal use. Respect your housemates' belongings, the same way that you would like them to respect yours.
Don't hit on your housemate

: We've all heard the stories of roommates crossing the line and making everything unnecessarily uncomfortable. It's easy to blur the lines between being a sociable neighbour, to being 'overly-friendly'. Sometimes flirting with someone may pay off…and sometimes it doesn't. Don't take the risk. A home should be somewhere that you and your flatmates feel most at ease, so do your best to keep it that way.
Golden Rules
If you're going to take anything away from this article, it should be these rules: 
Don't do unto others what you don't want done unto you

Give respect to get respect 

Friendliness is free
Having the courage to step out of your comfort zone and give coliving a go will undoubtedly be worth it. From a coliving experience, you can see new places, make new friends, grow intrinsically, and who knows – maybe even grow professionally! Being a good coliving neighbour is not an exact science, but if you follow our do's and don'ts as mentioned in this article, you are setting yourself up for success. If you're wondering how a coliving arrangement may work during the Coronavirus crisis, check out our article Coliving and COVID-19, is it possible? 
There are a lot of moving parts when relocating somewhere new or changing accommodation. Relogo is here to put your mind at ease, by offering tailored home search services to help you find the perfect place to call home and put your worries to bed. Even better, with Relogo's short term accommodation services, you have the option of trying out different coliving spaces with a flexible lease.