Whether you're in quarantine, have been issued a Stay Home Notice, or are just voluntarily practicing social distancing, we understand that it is difficult to keep yourself entertained at home. While the first few days may have been a breeze, you are probably starting to run out of ideas. 
There are a lot of sources out there with great suggestions of fun activities to do while at home in quarantine. We have done our research and collated the information into a master list of activities that are sure to keep you busy. If you fall into one of these categories, this list is for you:
Single and lonely at home 

Stuck inside with your partner 

Struggling to entertain the family
For the Singles
To all the singles out there, we know this time is especially difficult for you. From our research, we noticed that a lot of the home activities were targeted at couples or families, so we wanted to make sure we had some tailored suggestions just for you.
Ideally, working from home is the best way to keep yourself busy during the week. However, if working isn't an option or you are looking for some weekend activities, here is a list of some fun, easy things to do that will help in curing your boredom: 
Become the next Masterchef and bake some delicious home-cooked goods 

Push your career and do some free online courses

Order a puzzle

Make a photo album/scrapbook

Exercise – this one may be difficult if you are in an apartment, but try and find space in common areas, even if it requires some furniture rearranging 

Make a bucket list for travel or just life in general!

Learn a language – maybe now is a good time to get stuck into learning Malay or Mandarin

Take a

virtual tour

of a famous art museum 

Download TikTok (at your own risk!)

Call family & friends, not only for your benefit, but also for theirs
For the Couples
Self isolation is the ultimate relationship test. Spending all day, everyday with your partner may be proving to be a struggle. It is important to keep busy for your own sanity, and also to alleviate the stress on your relationship. 
Here are some ideas of activities to do at home for you and your partner: 
Stream

early-release movies

– in the midst of Coronavirus, many movies have been pulled from cinemas but fast-tracked for home viewing

Set up an indoor picnic for some romance 

Play the '

who knows who better

' game

Make pizza together

Give Picaso a run for his money and do some painting 

Practice couples yoga 

Binge watch a TV series
For the Families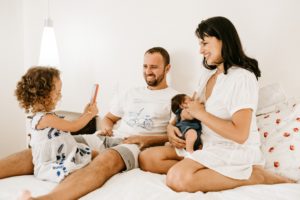 Question: Would you rather be (A) quarantined with your partner and kids or (B) literally anything else. 
If your answer to this question is (B), we have some suggestions to make your life more bearable. For parents who are just looking for ways to entertain their kids, this list is also for you. 
Keeping the whole family happy and healthy is no easy feat, so let us help. Here are some family-friendly activities that everyone can join in on during home isolation: 
Play board games 

Challenge each other to dress as a certain person/character then reveal your outfits to the family

Make an indoor minigolf course 

Make a home movie – everyone can play their own character 

Go through old home movies/photos together 

Do a fitness

workout

/challenge together, there are plenty of children-friendly workouts to do

Set up video chat 'play dates' with school friends
Here at Relogo, we want to voice our solidarity with you at this particularly challenging time. If there are any special services our team may assist with please feel free to contact us.