Expat-Friendly Neighbourhoods in Singapore (Part 1 of 3)
Singapore may be a small sunny island state but if you are wondering where to live, the answer is: it depends! From walk-ups to hipster neighbourhoods, to residences in the heart of the city, there are plenty of housing options to choose from. Each neighbourhood also has a lot to offer, with some that are great for families and others that are perfect for young professionals. 
We know that deciding on a neighbourhood in a new city is no easy task, so let us help you with the initial research. Here is the first instalment of a 3-part series where we break down popular expat-friendly neighbourhoods in Singapore by regions: CBD & Central, City Fringe and North, South & West. 
In this article, we look into expat-friendly neighbourhoods in the heart of Singapore – the CBD and Central districts. Living in these areas come with a heftier price tag, but also puts you within arm's reach of the city's entertainment and shopping hotspots. Expect to find mostly high-end condominiums in the CBD, while a greater variety of housing, including landed houses and bungalows, can be found in the Central district. 
Living in Singapore's CBD 
Robertson Quay
Living in Robertson Quay puts you near the CBD and in the centre of nightlife and glitz. With the many bars, restaurants, and cafes, your after work hours and weekends will never be the same again. Situated next to the Singapore River, there are many high-rise condominiums that offer riverside living or views of the city skyline. Just a twenty-minute walk or short car ride to the CBD, Robertson Quay is also very accessible by trains and buses to other parts of the city.
River Valley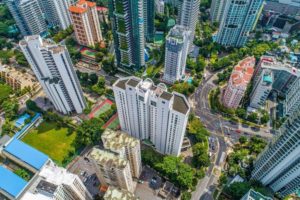 An alternative to Robertson Quay is the nearby River Valley – a quieter residential district, that still has dining and nightlife options at its doorstep. It is also a stone's throw away from Orchard Road and the CBD. For some greenery, head to Fort Canning Park, which boasts outdoor lawns and occasional performances. River Valley has many high-end condominiums that range from olderstyles with larger square footages to newer studio or two-bedroom apartments. While there are no MRT stations nearby, River Valley is well-served by bus. 
Tanjong Pagar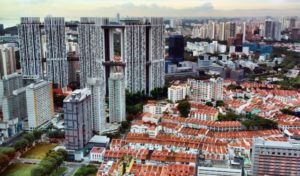 Step into Tanjong Pagar and you will find the streets with quaint, historic shophouses as well as a plethora of dining options. From cheap and local delights at Maxwell Food Centre, refined dining around Duxton Hill to a large choice of bars around Ann Siang Hill and Keong Saik, just to name a few. There is also no lack of cafes in Tanjong Pagar – making morning coffee runs and weekend brunches a breeze. 
Tanjong Pagar borders the CBD, which makes it a popular neighbourhood for young couples and high-income single professionals, who appreciate the short commute to work. Most of the housing options are high-rise condominiums, that tend to have a smaller square footage at higher prices.
Marina Bay
Marina Bay is the perfect place to call home if you like to have the CBD and waterfront views at your doorstep. One of the most exclusive residential districts in Singapore, there are only a handful of high-end and high-rise condominium properties in Marina Bay, among them The Sail and Marina Bay Residences. Be forewarned, living in Marina Bay comes with a very high price-tag but the premiums are aplenty. You will find yourself just minutes away from the world-renowned Marina Bay Sands Integrated Resorts, Gardens By the Bay as well as the finest dining and entertainment options. 
Living in Central Singapore
Orchard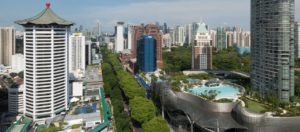 If you're looking to be at the heart of Singapore and all its happenings – Orchard Road is the place to be. Between the glossy malls, restaurants and entertainment options for all ages, there is never a dull moment in Orchard. Its wide, tree-lined sidewalks make for perfect strolls with the kids or just pop into the extensive network of air-conditioned underground tunnels to beat the heat. 
Orchard Road also offers a respite from bustling city life in its residential areas that are tucked away from the shopping belt. There are plenty of luxury high-rise apartments on Grange Road, Scotts Road, Cairnhill, to name a few. To have niceties at your doorstep, you will have to pay a premium but it comes with plenty of public transport options to let you save on travel costs. You will also be in the proximity of Chatsworth International School and country clubs like The Tanglin Club and The American Club.
Tanglin
Serving as a gateway to Orchard Road, Tanglin is its more quiet and prestigious counterpart. Surrounded by embassies, there are many condominiums, landed houses and bungalows sprawled around the area. While it does not offer easy access by public transport, there are many amenities available, from shopping to fine dining and entertainment. The nearby Dempsey Hill is a lifestyle enclave that hosts great restaurants, art galleries, spas, speciality grocers as well as boutique shops that sell furniture, apparel and more.  Tanglin is home to the Singapore Botanic Gardens with lush, expansive green spaces and plenty of kid-friendly activities. There are also international schools nearby such as the Etonhouse International School. 
Is Singapore's CBD or Central Neighbourhoods For You? 
If you have a generous relocation package or a bigger budget, the Central and CBD districts of Singapore are great neighbourhoods to live in. Whether you are a single professional or family, you will enjoy unparalleled accessibility to a plethora of amenities for your every need, such as renowned international schools, diverse dining options, exquisite entertainment hotspots and more. 
In the next two parts of our instalment on expat-friendly neighbourhoods in Singapore, we will cover the City Fringe and North, South & West regions. In some of these neighbourhoods, you will find housing options that do not break the bank, without having to compromise on space and quality. Read parts 2 & 3 here:
Part 2: City Fringe (Coming soon!)

Part 3: North, South & West (Coming soon!)
Moving to any new city requires quite a bit of effort – from house-hunting to familiarizing oneself with the local culture. There are also many considerations when looking for your new home: rent, location, housing type and more. So why not get some help with Relogo? Relogo offers home search services to help you find that perfect neighbourhood – all while working with your preferences and budget. With Relogo's short term accommodation services, you can even have the option of trying out different neighbourhoods before committing to that long-term lease.