Expat-Friendly Neighbourhoods in Singapore; City Fringe (Part 2 of 3)
Looking to get away from the hustle and bustle of city life but still have its dining and entertainment hotspots within reach? Then look no further than the City Fringe. There are housing options and amenities that are perfect for all types of expats in Singapore – from single professionals, couples or families with kids. 
Previously, in part 1 of this 3-part series on expat-friendly neighbourhoods, we covered the Central & CBD districts of Singapore. Here, in part 2, we will now explore the City Fringe, where you can find out more about the popular expat neighbourhoods of Tiong Bahru, Newton & Novena, and East Coast. 
Tiong Bahru 
Tiong Bahru is not only Singapore's oldest residential neighbourhood but also an artsy one – with its art-deco architecture and shophouses. Adding to its old school charm is the Tiong Bahru Market – a wet market (also a great place to buy plants!) with a food centre on the second floor. While there are many older residents who continue to live in the flats and shophouses, Tiong Bahru also boasts a hip, happening and gentrified side. 
In the last decade, this area has seen an emergence of trendy tenants – from cafes, bookstores, yoga studios, and speciality stores for apparels, groceries, music records and more. Hipsters aside, Tiong Bahru is also home to many expats, including those with kids. Even though the neighbourhood is served by one main mall – Tiong Bahru Plaza – it has all your grocery, retail and entertainment needs. Besides, getting to the city is a quick bus ride away or two MRT stations away if you are going to the CBD. Housing options in Tiong Bahru include walk-ups, condominiums and public housing. Although most of these properties are older, there are also newer, more established ones like Highline Residences. 
Newton & Novena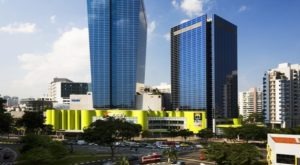 Living in Newton and Novena puts you relatively near Orchard Road but away from the hustle and bustle of it. They are popular with expats because of the area's good mix of family-style housing (landed properties, condominiums and cluster homes) and the suburban, laidback lifestyle that it offers. Furthermore, it is near several international schools such as St Joseph's Institution International School and Australian International School. 
Newton and Novena are served by three main shopping malls  – Velocity @ Novena Square, Square 2 and United Square – that have a great selection of restaurants, retail outlets and even enrichment centres for the kids . There are also plenty of green spaces interspersed within the estate, including MacRitchie Reservoir Park, which is great for treks or family-friendly activities. More recreation facilities are available at the nearby members' only Singapore Island Country Club. . 
Newton and Novena are served by the North-South MRT line that might require a short walk or bus trip to get to. However, there are also buses around the estates to get you to the city or CBD in no time. 
East Coast (Marine Parade, Katong & Siglap)
East Coast is where the sun, sand and sea meet spacious rental homes that do not cost an arm and a leg (as compared to Sentosa, a popular beach getaway with Singaporeans and expats). It is a quieter residential district which appeals particularly to couples and families, who love green spaces and proximity to the beach. Neighbourhoods like Marine Parade, Katong and Siglap that make up the East Coast enclave are all well-serviced by supermarkets, neighbourhood malls and other amenities. There are also plenty of eateries and bars that line Katong and Joo Chiat – serving a variety of local and international cuisines.. 
Housing options in East Coast are a mix of HDB flats, condominiums, walk-ups, landed houses and bungalows. That being said, there are several developments that are just a few minutes' walk from East Coast Park, where a myriad of sporting and recreational activities, as well as seafood restaurants, are available. 
Another reason for East Coast's popularity among expat families is the presence of international schools like Global Indian International School and United World College East Campus in the area. . 
East Coast's proximity to the CBD, Airport and Paya Lebar Business District, makes it great for frequent travellers. The upcoming Thomson-East Coast MRT line that runs through neighbourhoods in the area will soon make travel even easier. 
City Fringe in Singapore is Essentially City Living still
Whether your priority is to be near amenities with expat-friendly activities, international schools or simply to have the beach close by, there is bound to be a neighbourhood in the City Fringe for you. Housing options are also more varied compared to the City & CBD areas and getting into the city is just a matter of minutes by car.  
In part 3 of our 3-part series on expat neighbourhoods in Singapore, we cover the Northern, Southern & Western areas where housing is more budget-friendly and value for money. Read more about it here. 
If you would like to consider living in the heart of Singapore, do not miss Part 1 on Singapore City & CBD Living. 
Moving to any new city requires quite a bit of effort – from house-hunting  to familiarizing oneself with the local culture. There are also many considerations when looking for your new home: rent, location, housing type and more. So why not get some help with Relogo? Relogo offers home search services to help you find that perfect neighbourhood – all while working with your preferences and budget. With Relogo's short term accommodation services, you can even have the option of trying out different neighbourhoods before committing to that long-term lease.