Expat-Friendly Neighbourhoods in Singapore; North, South and West (Part 3 of 3)
Singapore may be small, but it has neighbourhoods to suit different lifestyles and needs – and this does not just apply to areas in the City and City Fringe! Neighbourhoods in the Northern, Southern and Western parts of Singapore also have plenty on offer for expats who are single professionals, couples or families with kids. With the exception of Sentosa & Keppel Bay in the South, moving further away from the city gets you housing that has more space and better value. Do not fret – Singapore's extensive road and public transport systems ensure that you can still get to the city in no time. 
In part 3 of this 3-part series on expat-friendly neighbourhoods in Singapore, we explore Singapore's North, South and West neighbourhoods such as Sentosa Island, Holland Village, Bukit Timah and more. 
If you missed them, check out part 1: Singapore City & CBD Living, and part 2: Singapore City Fringe Living.
SOUTH
Sentosa Island 
Sentosa Island is the epitome of resort-living, where it is home to some of Singapore's most affluent residents, who live in waterfront condos and landed houses. Naturally, this resort-island has no lack of amenities for its residents – with restaurants, bars, golf courses and spas. There are also great advantages of living in a gated community, especially for families with kids, as it offers a sense of familiarity and unity amongst the neighbours.
The primary drawback to living in Sentosa is the commute to 'mainland' Singapore. Sentosa is not serviced by public transport but is connected via car or a direct tram to Harbourfront MRT station. Some of the residences even offer shuttle services to the CBD too.  
Harbour Front & Keppel Bay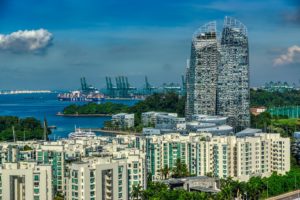 If you are looking to be near Sentosa but still stay on the "mainland" of Singapore, Harbour Front and Keppel Bay are perfect for you. While you do not have the beach at your doorstep, you can still be treated to waterfront views of the marina from condos such as Keppel Bay View, Reflections at Keppel Bay and The Carribean. The nearby Vivocity shopping centre, has all that you need – from the supermarket, a plethora of dining options, and even a cinema. In case it gets too crowded on the weekends, just hop on the MRT at the adjoining Harbour Front station to get to the city within minutes. 
WEST
Holland Village
Holland Village has long been popular with expats due to its cosy neighbourhood feel. So do not expect to find big shopping malls here, Holland Village is all about the quaint and bohemian, with a mixture of restaurants, cafes, concept stores and bars. It is also well-served by amenities like supermarkets and schools surrounding the area such as Nexus International School, Tanglin Trust School and United World College (Dover).  Many popular expat haunts are also in the vicinity such as the members' only Hollandse Club and Swiss Club. 
Housing options in Holland Village range from landed housing, condos and apartments. Be sure to check out the terrace houses and walk-up apartments at the adjacent Chip Bee Gardens, that once served as living quarters for the British Armed Forces. In terms of accessibility, HolIand Village is within proximity to One North business park, has good transportation links, as well as buses and MRT that lead directly into the city. 
Bukit Timah
To the north of Holland Village is Bukit Timah enclave, which is known to be a largely residential area with a suburban feel. Bukit Timah is another popular neighbourhood for expats with families, thanks to its proximity to international schools and pre-schools like German European School, Chatsworth International School, Nexus International School, Dulwich College and Hollandse School. On the weekend, there is a wide range of kids' activities awaits at the nearby Turf City and Jacob Ballas Children's Garden. Nature lovers can also rejoice at Botanical Gardens and Bukit Timah Nature Reserve. 
The Bukit Timah enclave is a mixture of landed houses, cluster houses and condominiums that are well-served by small malls, cafes, restaurants, supermarkets and even speciality grocers around the neighbourhood. The nearby expressways and Downtown MRT Line that runs through the neighbourhood, allow for quick access to the city and CBD. 
North
Woodlands
Large houses at reasonable prices, to boot – a rarity in Singapore – are readily available in Woodlands. American families are often drawn to Woodlands thanks to the close proximity to Singapore American school and the all-familiar suburban feel that this neighbourhood offers. Here, you can get landed houses with a front porch, garden or even a private pool. Other housing options include HDB flats and condominiums, with surrounding amenities that provide all that you essentially need. Between Causeway Point, Vista Point, Woodgrove Shopping Centre and more, there is a great selection of supermarkets, dining, retail and entertainment options. 
While commuting to the city or CBD from Woodlands might take you longer than from other parts of Singapore, great transport options make the journey seamless. The North-South MRT line has several stations in the area (Marsiling, Woodlands & Admiralty) and the Woodlands Regional Bus Interchange operate buses that go all around Singapore. 
North, South and Western Parts of Singapore
If you are not fussed about a slightly longer commute to the city, then check out the Western and Northern parts of Singapore. On the upside, you will find housing options that are more spacious, family-oriented and value for money – all with a good range of amenities to offer. For those looking for a resort lifestyle, Sentosa and its slightly more affordable counterpart, Keppel Bay will be the perfect option. Either way, with Singapore's extensive public transport systems, getting around within these districts or to the city is never a hassle.
This article is part 3 of a 3-part series on expat-friendly neighbourhoods in Singapore. Read parts 1 and 2:
Moving to any new city requires quite a bit of effort – from house-hunting to familiarizing oneself with the local culture. There are also many considerations when looking for your new home: rent, location, housing type and more. So why not get some help with Relogo? Relogo offers home search services to help you find that perfect neighbourhood – all while working with your preferences and budget. With Relogo's short term accommodation services, you can even have the option of trying out different neighbourhoods before committing to that long-term lease.