Living in a small apartment can feel claustrophobic if you are not using your space to its fullest potential. When living in a metropolitan city, it is common to find yourself living in a smaller space, whether you are in a studio, coliving, or renting an apartment. You may feel like you can't find a place for all your belongings or you are constantly bumping into furniture, we know the feeling! Learning to maximise the space you have is well worth the effort, and can make an enormous difference to your living space. Keep reading to find out practical tips you can implement in your apartment.
Design for Dual-Purpose
One of the most important tips is to find pieces that not only look good, but service more than one purpose. It has happened to us all – buying pieces of furniture based on their aesthetics without really assessing their functionality. When living in a smaller space, it's important to consider functionality before all else. For example, when shopping for a coffee table, ask yourself: Can this table do more than just hold your coffee mug? Some crowd favourite multi-purpose design pieces include:
Pull-out couch: This is a great 2-in-1 solution, and will come in handy when you have guests.
Rolling kitchen cart: A rolling cart can be used in the kitchen as an island, stored against the wall for extra space, or rolled into the living space to be used for other purposes.
Blanket ladder: Seen in many contemporary homes, not only do blanket ladders look good, but also saves space with vertical height.
Storage ottoman: These are great to be used as coffee tables when paired with an accent tray, and also a storage solution for bulky items.

Utilise Awkward Corners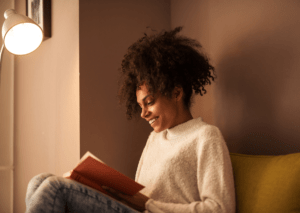 The awkward corner – not big enough for most furniture but not small enough to leave bare. When living in a small apartment, it's important to make sure of all your space, including the awkward corners. These spaces can be used to add some styling, or can be a  unique storage opportunity. Some ideas of how you can fill the space include:
Corner shelving: Adding shelving to your awkward corner can give you another space to store your belongings, or add a decorative feature. Shelving can either be a stand alone or floating.
Reading nook: By adding a simple chair and side table, you can create a small inviting zone that you can spend time in sipping a coffee or reading a book.
Plants: Adding plants to a corner is a great way to bring some life into your space, and brighten up the room. They come in all shapes and sizes, and can be placed on the floor, on a table, or even hung from the ceiling.
Baskets: This is a great, affordable, and stylish solution to add to your corner. Baskets are multi-use and can collect things like blankets, linen, or even laundry.
Soft decor: You can never go wrong with comfortable lounge ideas like poufs or beanbags.
Use Neutral Colours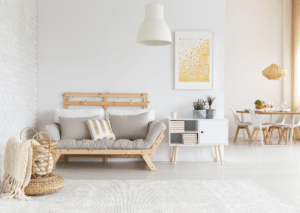 A lot of the time, using calm and neutral-toned colours can make a room look bigger. Using bright colours and bold patterns can make a room seem smaller and more crowded, whereas neutral colours can fool the eye and make the apartment seem more spacious. If you would like to add some personality to your space, consider adding subtle textures and patterns rather than too many bold colours.
Incorporate Vertical Elements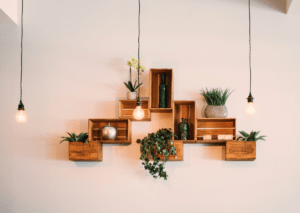 It's easy to forget about our underutilised spaces, like the top of furniture pieces, walls, and ceilings. By adding taller or high-mounted elements to your apartment, it can make your rooms feel bigger and taller. Some good ways to maximise your space from the floor to the ceiling include:
Choose tall shelves instead of shorter shelves.
Buy a media cabinet with less square footage on the floor.
Stack shelving units on top of each other.
Install floating units.
Choose Decor Wisely
By not thoughtfully choosing your decor, it can result in your space feeling constrained and tight. As tempting as it is, try not to fill your walls with your pictures, to avoid the walls seeming overstuffed and crowded. A better approach is to carefully choose a limited range of home decor items. Be picky with your choices, and only commit to the pieces that are meaningful to you or offer the classiest feeling.
If you're finding it hard to choose just a few items, keep the rest in storage and rotate them regularly. This is a good option if you like changing things up often and struggle letting go of pieces.
Put Mirrors on Doors and In Other Places
Mirrors are a great furniture piece that can make a home feel bigger. They can fool your eyes into thinking that you are looking farther than you really are. A great place to hang mirrors is on your closet doors, giving your room the illusion that it is a lot bigger. Large bathroom mirrors can also create the same effect. By adding a larger mirror to a smaller space, it can introduce a sense of largeness and openness that wasn't there previously.
So, if you're living in a small apartment, the trick is to have smarter space, not necessarily more space. Finding ways to maximise your square footage is a great way to give yourself more storage options and make your rooms feel more spacious. Discovering efficient yet stylish ways to store your belongings is an ideal way to utilise your space. By implementing the tips introduced in this article, you can make the most of your space and live happily, no matter what size apartment you are in.
As relocation experts, Relogo provides tailored short term accommodation search, moving and storage solutions, pet relocation, and school search, among other complimentary a-la-carte relocation services. If you are looking for more comprehensive help, our team also provides concierge service packages. We are happy to lend our expertise to any enquiries, so don't hesitate to contact us now.