Whether you are new to Singapore, or if you have lived in Singapore for years and are deciding on your next move, choosing what type of residence you want to live in is an important decision. Residential properties are typically distinguished by housing type, the two main classifications being landed or non-landed. Landed housing includes: bungalows, semi-detached, terrace, shophouses and strata landed housing. Non-landed housing includes: HDB flats, apartments and condominiums. High-rise homes comprise the bulk of Singapore's residential stock. When it comes to expats, condominiums and landed properties are two most popular housing types.
Condo Living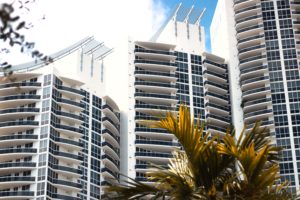 Often referred to as condos, condominiums are a type of non-landed private housing. Contrastingly to HBD flats, which are lived in by 80% of Singaporeans, condos are recognised by its common facilities for resident use. The key difference between a condo and a typical apartment estate is that a condo development is required to be at least 4,000 square metres or larger.

Landed Property Living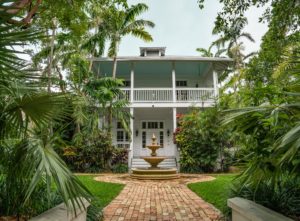 Mention in land scared Singapore, only 5% of homes are landed,  which means one will have to spend more time looking before you find one that suits your needs. That said, that doesn't always mean that landed properties are much more expensive than condos.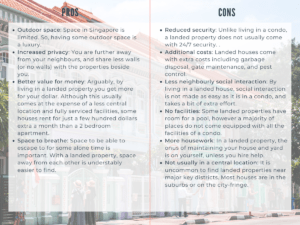 The condo vs landed property decision is not an easy one, especially if you can afford both. It is important to understand what your priorities are, and what compromises you're willing to make. This decision is made particularly difficult if you have not lived in Singapore before. Working with a professional to find your next accommodation has clear benefits, including local expertise, time efficiency, and money saving. Here at Relogo, we are relocation experts, and have helped a wide range of clients with their home or short-term accommodation search in Singapore. We understand that everyone has different priorities, varying budgets, and a unique time-line, and work with you to help you find the best place for you.   
Aside from home search services and tailored short term accommodation search, Relogo can also assist with moving and storage solutions, pet relocation, and school search, among other complimentary a-la-carte relocation services. If you are looking for more comprehensive help, our team also provides concierge service packages. We are happy to lend our expertise to any enquiries, so don't hesitate to contact us now.