Utilising a lump sum relocation package offers benefits to both employees and employers.  For employers, offering this type of package makes it easier to control costs, and also provides simplicity in administration. For employees, it gives them more control over their relocation experience, and also gives them the opportunity to find the right moving solutions for them. This article provides insight into the elements of lump sum packages, types of lump sum packages, and the benefits it can provide to businesses.
What Is a Lump Sum Relocation Package?
A lump sum relocation package is essentially a set allowance given by a company to an employee who is relocating for work. The aim of providing these types of packages is to effectively help employees settle into their new location efficiently, in order for them to be productive at work as soon as possible. A lump sum package provides employees with flexibility in their relocation, while also allowing the business to control costs at the same time.
The provision of lump sum packages allow the employee to cover a wide range of expenses that they may incur during relocation. Typically, the package will assist in paying for general moving-related expenses, which may include temporary accommodation, moving & storage, and the cost of sale and closing of a home.
Negotiation of Lump Sum Packages
Regardless of what type of relocation package a business offers employees, a negotiation is likely to be had. A negotiation of relocation packages should entail an open dialogue between the employee and employer. In this discussion, the employee should present their timeline for relocating as well as their requirements in order to move. For example, in order to move an employee may need to sell their home, ship their furniture, or find child care. On the other hand, the employer should enter the negotiation with information on what the business is able to offer the employee, when the employee is required to begin their new position, and what additional relocation support they are able to recommend. 
Nowadays, businesses are moving away from offering full relocation packages to employees. To compensate for the decreased relocation support, many businesses choose to recommend a third party relocation provider, like Relogo that offers a la carte relocation services to assignees while the business bears no extra cost. Accessible and affordable full service concierge relocation services are also available should the assignee require them. 
Relogo customises relocation solutions for your employee's move to ensure a seamless relocation and arrival experience. Speak to us to find out more.
Payment of Lump Sum Packages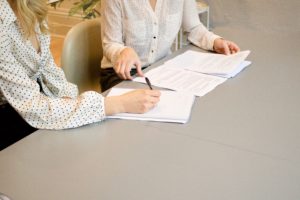 Another important aspect of lump sum packages essential for a business to consider is how to pay it. There are a variety of payment options available for these types of packages, including: 
Cash

: In this case, the lump sum is provided directly to the employee, and they choose to spend the funds as they see fit. Important to note, is that the employee will be required to file that lump sum amount as income which will be subject to income tax.

Direct

: This payment method means that the employer liases directly with the other businesses involved in helping the employee move, and the employer will pay them directly. This means that the business is billed for the employees moving expenses, and eliminates the employee from potentially having to pay taxes for those expenses.

Reimbursement: In this situation, the employee would pay for their relocation expenses upfront, and the business would reimburse the employee upon receipt proof once the expense has been incurred, or after their move is complete. This method also means the employee is not at risk of additional tax burdens, and provides the business and the employee with increased flexibility during the relocation process.
Types Of Lump Sum Relocation Packages
1. Fixed Lump Sum: This type of package takes a 'one-size-fits-all' approach, where the employer provides the same lump sum amount to all employees, regardless of their level in the organisation or their marital status. Hence, an entry-level employee receives the same lump sum payment as an executive-level employee.
2. Variable Lump Sum: These packages take into consideration different employee situations. How much each employee receives is determined by parameters set by the company. For example, an employee with a family who is moving from Sweden to Singapore may receive more than an employee who is single, moving from Malaysia to Singapore. Examples of parameters include: 
Distance of relocation 

Renting vs. buying

Size of family

Level of employee within the business

Salary
3. Partial Lump Sum: In this type of package, the employer offers a lump sum payment for some expenses, and then reimburses the remaining expenses. This reimbursement is completed upon submission of receipts/supporting documentation by the employee. The employer decides which relocation expenses are covered by the lump sum portion, and which require receipts for reimbursement. For example, temporary accommodation may be covered by the lump sum payment, however the employee must pay for their flights up front and submit a receipt for reimbursement, and the flight costs are not deducted from their lump sum payment.
4. Managed Lump Sum: In this situation, the employer assigns a capped amount to the employee, and the employees expenses are managed by the company HR team or an outsourced relocation service provider. Many businesses choose to improve their employee relocation management by recommending the services of a relocation management business, like Relogo, to guide employees in spending their lump sum effectively without putting strain on the HR department.
How Lump Sum Relocation Programs Benefit Businesses
According to a survey conducted by the Worldwide ERC on lump sum policies, the primary reason for businesses offering a lump sum is concern for employee flexibility. The second most cited reason was cost control.
Simplify administration

: Another great benefit of lump sum programmes to businesses is that they often reduce the strain on HR and global mobility resources. Since the employer is not responsible for the nitty-gritty aspects of managing the employees entire relocation process, their HR team can focus on their core competencies, without the additional stress of handling relocation. 

More employee flexibility

: Lump sum packages give employees the flexibility of choosing the services that best suit them, rather than being restricted by set guidelines. Some employees may have little-to-no experience with relocation, so they may be unaware of certain costs, or may choose to do without relocation services that are critical for long-term success. This highlights the importance of still providing employees with some guidance, by recommending a third-party relocation service provider, who can ensure that your employees' flexibility does not cost your business in failed assignments and unhappy or unproductive transfers.

More cost effective

: Lump sum packages typically offer the most essential benefits rather than a fully-managed programme which may include services that may not be highly valued by the assignee, making such relocation packages more cost effective for the business. By providing a capped budget for the employee, the business can be sure that the capped amount is all they will spend on relocating that employee. However, it is important to remember that while services like home search, settling-in services and school search may not seem worth the price prior to a relocation, they have real value.

Studies

have shown that failed assignments are a significant drain on a company's resources, and can amount to more than the cost of including additional relocation services. Therefore it is important to consider a cost benefit analysis when deciding on your company's relocation package. 
To summarise, lump sum relocation packages allow employees to prioritise their individual needs and expenses as per the money offered to them in the package. Deploying this type of package can simplify administration and improve the cost control abilities of a business. It is undoubted that relocating employees is a significant expense for many businesses. Lump sum relocation packages could help businesses keep these expenses in check, while allowing transferees the opportunity to take more control over their relocations and related relocation expenses.
Before you make final decisions about your business's lump sum programme, it is a good idea to contact a relocation specialist like Relogo for advice on what an employee needs in order for their relocation to be successful. Utilising a service like Relogo does not come at any additional cost to the business, and it mitigates the chance of failed relocation, ultimately saving the business money. 
Related articles: 
Tips to Seamlessly Execute Your Global Mobility Strategy
How to: Build a Relocation Package for Your Employees
The team at Relogo can provide advice and assistance in developing your company's relocation package, and can also help you administer the policy so you can focus on what's important to you. We would love to hear from you, so feel free to contact us any time.