In the midst of all the negative Coronavirus news, it can be challenging to maintain a positive mindset. People worldwide are struggling with the same mental health issues, and we have seen growing demand for mental health support as a result of the outbreak. It's true that we need to take this virus seriously, however all the doom and gloom can be counterproductive. Staying positive is a core ingredient in the recipe of successfully coping in a crisis. Now more than ever, it is important to keep a positive mindset to keep us feeling happy & healthy. 
Now is the time for us to be proactive about creating moments of happiness in our days. By keeping a positive mindset, we can work to overcome the feelings of anxiety and concern brought on by the uncertainty of COVID-19. This article entails some positive things you can do to contribute to your mental wellbeing.
Find a Healthy Media Coverage Balance
In current times, it is easy to fall into the pattern of watching 24-hour news channels, or visiting countless websites and being bombarded with COVID-19 news. Exposing yourself to excessive negative information can increase feelings of anxiety and distress. Although it's important to stay informed, it may be useful to limit your media intake, particularly if it is having a negative effect on you or your family. You may also decide to choose a single news source and limit how much time you spend on it each day. Then, obviously it is important to stick to your plan.
One of the easiest mistakes to make is reading information from the ocean of unreliable sources. It's also important to ensure that you are getting accurate information from credible sources. Not only will this help you stay informed with the correct facts, but will also aid in feeling more in control and maintaining perspective. 
Some credible sources include: 
Your national government COVID-19 health alert 
Look for Good and Do Good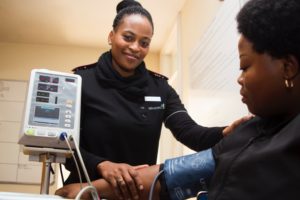 So far we have seen that this crisis has brought out both the best and the worst in human nature. While you can get easily distracted by watching people brawl over toilet paper in Australia or people hoarding enough food for a small village, there is a lot of good to be seen in the world right now, if you choose to notice it. 
Here are some good things to look out for: 
Philanthropists who are donating money to science to find a cure. 

Doctors and medical staff who are working tirelessly to help patients. 

Volunteers who are choosing to put themselves at risk for others. 

Neighbourhoods who are helping each other out and sharing resources. 

People who are posting positive, uplifting messages on social media. 

People who are helping the elderly and other at-risk groups. 
Something you can do to help is support your favourite local businesses. With most businesses either closed or with significantly limited services, your local businesses are likely struggling through this time. To show your support, you could purchase some delivery or takeaway, to consume the goods safely within your own home. You could also buy a gift card or voucher to help the business owner with income now, and prepay for a delicious meal or coffee that you can enjoy when this pandemic is behind us.
Connect with Others
At this time, it is normal to feel more disconnected to others than usual. To help with this, share any concerns and your feelings with friends or family. Not only does this give you a chance to vent, but it may also encourage them to do the same. Also do your best to maintain healthy relationships. Having a strong support system will make getting through this time easier. 
Another way to connect with others is to help lift peoples' spirits. As we all know, it's not the best idea to pay our loved ones a visit with some home baking. So instead, you could send them a card or gift in the mail. Receiving an unexpected gift can be a huge mood-lifter in times of distress. Another thing to take into special consideration is that many nursing home facilities are closed to all visitors, making their elderly residents feel even more isolated. So, sending a surprise gift to anyone you know in a situation like this would be particularly valuable.
Take Care of Your Body
Now is a great time to focus on your physical wellbeing. It is easy to fall into the trap of using your free time at home to just lounge around and move from the bed to the couch, and back to the bed again. However, you can use this time productively and build some healthy habits. Some helpful things to try are eating healthy well-balanced meals, exercising regularly, and getting plenty of sleep. To help in improving your wellbeing, do your best to avoid alcohol, tobacco, and other drugs. 
Read about some home workout options here.
Take Breaks and Have Fun
Ensure that you are allowing yourself to take breaks and have fun. It is important to be able to separate work and play, even at home. Use your breaks as an opportunity to focus on some things you haven't had time for. Pamper yourself and finally do that face mask, or give yourself time to relax and practice some yoga. 
Also use your 'me time' to unwind and remind yourself that negative feelings will fade. You can try taking in deep breaths, and doing activities you usually enjoy. Here are some meditation and breathing exercise resources you can check out: 
At first glance, it may seem like you're going to be sitting at home bored, but that doesn't necessarily have to be the case. We wrote an article on things you can do while at home in isolation, so have a read and put a smile on your face.
Seek Help When Needed
If you feel like distress impacts activities of your daily life for several days or weeks, it is important to look for help. Know that there are various resources and hotlines to call to seek help. You can talk to a clergy member, counsellor, or doctor, or contact 1800-283-7019 (Singapore Association for Mental Health). Here is a list of additional resources you can contact. 
Here at Relogo, we want to voice our solidarity with you at this particularly challenging time. If there are any special services our team may assist with please feel free to contact us.