Congratulations on your upcoming move to Singapore! Perhaps you have found a job, are transferring with your current company, a trailing spouse, or you are just coming to Singapore to find the right opportunity; after all, Singapore has always been one of the best places to work and live in.
Most people tend to get overwhelmed by the number of things to do before relocating to Singapore, but it really isn't that bad. Having helped many expats move to Singapore, we know that once you have the following key items figured out, things will gradually fall into place:
Securing a Valid Visa
Short-Term Accommodation Search
Home Search
Moving and Storage
School Search
Pet Relocation
Singapore is easy to settle into, and there is affordable and competent relocation help available to make the process of settling in even easier.
Securing a Valid Visa
Before you even move to Singapore, you'll require the right type of visa. Singapore has multiple visa types, locally referred to as passes, for those looking to work inside the country. Here are some visa types that people mostly apply for:
Contact Relogo for you or your family's visa requirements in Singapore.
Finding Short-Term Accommodation
In most other countries Airbnb would be an ideal option, but in Singapore it is mostly illegal! The short-term accommodation options in Singapore depend on how long you anticipate living there before you find a more permanent home. Of course the shorter the stay, the more expensive it gets. Your options are: hotels, serviced apartments, co-living or individual apartments that are professionally managed.
Unless you were fortunate and diligent enough to visit Singapore beforehand to view potential homes and sign a lease, chances are that you will need to find short-term accommodation when you first arrive. For short-term accommodation, we suggest staying in a rental, co-living, serviced apartments or professionally managed apartments as they are much cheaper than hotels. Rented apartments and co-living require you to stay for a minimum period of 3 months while serviced apartments have a minimum stay period of 6 nights.
Relogo's short-term accommodation search service can help you find the ideal temporary accommodation that fits your budget and fulfils your requirements.
Finding the Right Home
One of the key things you will need to sort out is where to stay in Singapore. You can start the search upon receiving your in-principle approval letter (IPA).
The concept of the "right home" is highly subjective, but a few key considerations include:
Rental budget: A lot of people, when they first start their search, are surprised at how much the rent in Singapore can be. While it's great to be staying in the city centre, it's obviously not cheap. As such, one would need to strike a balance between convenience and affordability.
Additional fee: When it comes to renting, the rental cost isn't the only expense. You also need to factor in an upfront security deposit for one or two months, the repair and maintenance contracts and accounts, the stamp duty for the rental agreement, and sometimes, the agent fee. Consider these expenses and add them to your budget.
Proximity to workplace and school: Keep in mind that your door-to-door travel time from home to work using public transportation or private car hires increases during peak hours. So the closer you are to your workplace, the less you have to deal with peak hour traffic. If you are moving to Singapore with your kids, the location of their schools too should influence your choice.
Access to public transportation: Cars are notoriously expensive in Singapore. So, for most expats, proximity to MRT stations or bus access should be something to look out for. This becomes even more crucial if you have a job that requires you to travel to different locations. While the Singapore bus network runs efficiently, it does significantly increase the travel time if you have to make connections.
Proximity to lifestyle options: Singapore is a small country and while nothing is considered far, where you live will largely influence where you spend most of your free time. Both Singaporeans and expats get spoiled by the proximity of leisure and lifestyle options in Singapore.
Type of housing and facilities: Homes range from condominiums with facilities like swimming pools and tennis courts to government-built housing development board (HDB) flats. There are also landed property options such as semi-detached or terrace homes where you share a wall with your neighbour, shophouses that are quite charming but tend to be older and expensive, and bungalows.
We suggest doing a look-see to understand what type of home and neighbourhood works best for you. Many expats come to us with set parameters but change their preferences once they see what else is available on the market. You could go online and search for property listings on your own or work with an agent.
Typically, if your budget is above SGD3,500, you can appoint a property agent with no fee. The agent will then source places you can rent, schedule and accompany you to viewings, and also drive you to the viewings. The agent becomes a key point of contact until the end of your lease. Even though some property agents have given the industry a bad reputation, many are genuinely helpful and knowledgeable. Relogo has a network of trusted and pre-qualified property agents who can deliver the right services at affordable costs.
If your budget is less than SGD 3,500, fret not. Relogo can still assist you with your home search. Help us understand your needs and we can link you up with a compatible agent or provide you with our home search service.
Moving & Storage Services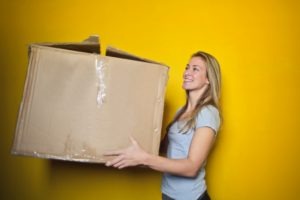 It might be tempting to move your entire household with you to Singapore, but only till you get a quote from moving companies and realise how expensive that can be. So do you really need to move all your furniture? Before determining the best option to furnish your home, you need to consider a few points.
The first thing to consider is the duration of your stay in Singapore. If you are on a contract, hauling along all your belongings to Singapore and then shipping them back will take a toll on your relocation budget. You should also consider the duration of your apartment lease, if you subsequently relocate locally into a new apartment, there will be additional moving costs to consider.
To save you the trouble of finding and moving furniture, you can rent a fully-furnished apartment. You can even negotiate with the landlord to remove certain items if they are not required. Buying secondhand furniture to minimize your expenditure is another option. Social media sites like Facebook and mobile apps like Carousell are great sources to find secondhand furniture or give away items in Singapore.
If your assignment period is short and there are no additional costs to storing your furniture and belongings, it might be best to leave these items behind. You should ultimately think about how long you intend to work abroad before deciding if it makes sense to store, sell, or move your furniture with you.
Identifying the Best Schools
We won't lie, doing a school search for your children is not an easy task. This is mainly because you have so many options to choose from, and we know you just want the best for your kid. So while looking for the right school for your kid, here are a few things you must consider:
Curriculum – For younger children, a curriculum that fits their strengths and interests will allow them to enjoy learning and thrive. For older children, choosing a curriculum that allows them to achieve their higher education goals will be key.
School fee – Your kids' school fee makes up a considerable part of your overall budget. While you don't want to end up exceeding your budget, you can't afford to choose the wrong school or curriculum just to save a few dollars. Consider every aspect of the school and see if the school you choose provides the value and overall education you want for your child.
School culture – Different schools have different values, ethos, teaching methods and language options. These factors are crucial as your child will be highly influenced by the school culture they grow up in. Depending on the languages your kid loves and the ones you want them to pick up, you can also select the schools by the curriculums they offer.
Admissions process/waiting list – This process can be a long and back-breaking one. Make sure you are aware of the dates when the admission procedure begins. It might be difficult to get an admission to your preferred school due to high demand. That's why you should shortlist multiple schools that fit your criteria. By doing so, you will be able to enrol your kids in one of your preferred schools, even if it's not your first choice.
Facilities and extra-curricular activities – Academics isn't the only thing you should worry about when it comes to your kid's education. Consider the various extracurricular activities and school facilities too.
Location and commute times – It might be prudent to consider which school you are sending your kids to first, before deciding on a place to stay as the commute time does add up on school buses. Depending on which school your kids attend, school bus fares add up and can be a couple hundred a month.
Selecting the right school for your kid is definitely going to take time. Speak to an education consultant and let them guide you through this arduous task of choosing the right school.
Planning your Pet's Move to Singapore
Before you move to Singapore with your pet, you need to ensure that their journey and stay are comfortable. A few things to consider here include the age of your pet, its medical condition, its eating habits, and its adaptability to the environment and temperature changes. Just bear in mind that it can be an expensive affair to move to Singapore with your pet, given the costs involved – the cost of vaccinations, vet visits, suitable carrier for the flight, flights, quarantine stay, and perhaps, a professional to check on your pet and walk them when they are in transit.
There is quite a bit of paperwork involved, and adhering to the stringent sequence of medical tests is a key step when you move to Singapore with your pet. Missing out on vaccinations can delay your pet's arrival date. If you decide to take on the pet relocation challenge yourself, you can go through the Singapore government's detailed instructions here.
While it is possible to do this on your own, we advise you to seek professional assistance for the process. A professional can ensure your furry friend is at ease in an unfamiliar surrounding. Let Relogo assist you to relocate your pet with the support of our recommended pet relocation partners.
To move to Singapore without any hassle, plan ahead. If you prefer to have someone with you through this journey, have a look at Relogo's accessible and affordable relocation concierge services and get in touch!