What Is a Global Mobility Strategy?
A global mobility strategy is a business's plan for smoothly transitioning employees that travel or live in foreign countries. A global mobility strategy should provide guidance and structure for international employee mobilisation. Ideally, your strategy should be cohesive with the business plan, vision, and workplace culture and values. One important thing to note is that no two strategies will be the same. Developing your strategy must take into account the business' needs as well as the personal needs of the employees who will comprise your international workforce.
The Importance of a Global Mobility Strategy
Some businesses may wonder why so much time and effort should be spent on a global mobility strategy. The argument for creating a strategy is strong. It prepares you for international expansion, which comes with many benefits. To name a few, access to new markets, diversification, competitive advantage, more cost effective production, international brand recognition. By creating a well thought-out plan for deploying and managing international talent, businesses can support their global growth. Essentially, a comprehensive global mobility strategy can empower businesses to establish a global workforce:
Effectively – You will be able to deploy your employees seamlessly in a shorter time frame with less issues.  

Uniformly – Your strategy will allow for each individual employee deployment to follow a similar process. 

Compliantly – Very importantly, planning will aid in ensuring your process meets both home and host regulations. 
Whether you run a small business or lead an MNC, if you are planning to utilise the global business sphere, mobilising your workforce as efficiently and smoothly as possible is imperative. 
Key Global Mobility Strategy Considerations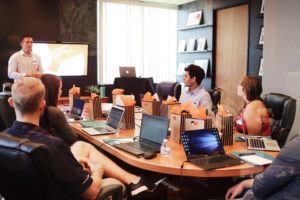 Here are some key considerations to ponder before developing your strategy. 
Employee preparation – Moving overseas is no easy feat, so make sure you assist your employees as much as you can.

Be sure to provide a useful, comprehensive employee-relocation brochure so that employees can be aware of, and understand the process they'll be undergoing. Make sure employees understand their role and duties in their overseas position. Cultural education is another essential part of preparation. Ensure that employees have reviewed the basics of their host culture and have learned about business culture.

Talent acclimation and retention – The relocation process is another critical part of employee deployment.

If the process is disorganised or if employees aren't prepared, there is the potential for you to lose your workers.

Once your employees have touched ground, you need to check in regularly and see how they're doing. Services like

Relogo

can help with the preparation, relocation, and follow-up of your overseas employees. 

Immigration legislation –

Each country has different immigration legislation. Be sure to compile a list of the required work & residence permits for the relevant countries. It is also important to determine how much of this process your business will be responsible for and how much your employees should handle themselves, as well as who will pay for which immigration fees.
Tax requirements – Tax implications have the ability to make or break a business. Tax requirements are something you should consider before determining which countries you will expand to. There are also various payroll-related aspects your HR team should consider.
Tips for Seamless Execution
1. Comprehensively understand your mobility needs – Decide what type of international movement your business will need. Mobility needs can include:
Regular commutes:

Workers who live in one country and cross borders to get to work.

Business travel:

Employees on short business trips overseas. 

Short-term projects:

  Employees on short-term, semi-permanent postings in other countries, these can last weeks or months.

Permanent relocation:

Workers permanently re-assigned to job roles in other subsidiaries overseas. 
2. Establish your presence overseas – Understand what kind of international presence your business will have in the host location, and the legislative environment of those locations. Things to note:
The legal structure your business adopts will result in tax implications for your employees.

The legislative situation varies from country to country, and may affect: (a) the type of work your employees can take part in, and (b) the way in which you mobilise them, particularly length of stay.
3. Stay vigilant on immigration – Immigration should be a top priority of your global mobility strategy. It is important to stay on top of immigration laws, requirements and administration, to ensure your employees can move into the country with no issues. While these will differ between countries, some general considerations include:
Work & residence permits.

Letters of sponsorship from employers.

Background checks (medical and financial).

Depending on employee nationality, possibly political and legal procedures.
4. International logistics – It comes as no surprise that there are many logistical challenges that come hand-in-hand with moving employees across the world. To benefit your employees, you should think about including:
Relocation allowances (airfares and shipping).

Accommodation allowances based on cost of living. 
5. Coordination of elements – One of the fundamental challenges of a global mobility strategy is to coordinate the efforts of employees working in foreign countries, and those working in home locations. It can be difficult to ensure all employees understand, and are working towards the overarching vision & mission of the business. 
Coordinate international meetings where employees from different subsidiaries can communicate and connect. 

Have reminders of overall company goals. 

Ensure workplace culture is cohesive across countries. 
6. Take advantage of host location benefits – Make sure you utilise the aspects of operating in that country and take advantage of the benefits of that host location. Things to keep in mind:
Consider developing compensation packages that compliment the tax landscape of your host locations to ensure employee satisfaction. This will include payment currency.

Be aware of local tax mechanisms that can be actioned as part of your strategy. This may include tax protection and 'local plus' tax schemes.
7. Maintain employee satisfaction – Your job doesn't stop once your employees land in their overseas location. Deployed employees will have different needs to those of employees working in home locations. In order to maintain employee satisfaction, your strategy should aim to fulfill those needs.
Employees will appreciate the integration of factors that will help them settle into their new location. This may include language tutoring, proximity of accommodation to local amenities, and provision of quality internet service.

If family members are moving with your employee, it is also important to consider their needs and do your best to address those in your global mobilisation strategy. 
Here at Relogo, we understand that the prospect of developing your global mobility strategy can be stressful. There are so many moving parts which are critical to the successful implementation of your global operations. We are also aware that many companies are moving away from the provision of full relocation packages in their global mobility strategies, towards providing Foreign hires with a lump sum allowance or a local package. Without relocation help, Assignees are often left unsure about how to best approach their move. To fulfill this need, Relogo provides essential assistance to your Foreign hires. We help your Assignees settle into their host location seamlessly so that they can be productive at work as soon as possible. Partner with Relogo today to power your organisation's global mobility strategy. Feel free to contact us with any enquiries.